Coronavirus Updations: Almost 19,000 people in India infected, toll rises to 603
The Indian Council of Medical Research advised states to not use rapid testing kits for two days after complaints. The Uttar Pradesh government says accredited journalists in the state can get themselves tested for the coronavirus, reports PTI. "Orders have been issued for coronavirus testing of accredited journalists of state headquarters in Lucknow," Additional Chief Secretary Awanish Awasthi tells reporters.
The Brihanmumbai Municipal Corporation says the number of containment zones in Mumbai has been increased by 113% from 381 to 813 between April 9 and 2, reports PTI.
Chhattisgarh Chief Minister Bhupesh Baghel writes to Prime Minister Narendra Modi, asking him to provide financial assistance of Rs 30,000 crore to the state in the next 3 months for the operation of relief and welfare schemes.
Reports 19 new COVID-19 cases, according to ANI. Chief Minister Pinarayi Vijayan says a woman belonging to the first cluster of cases has tested positive even after 36 days in Pathanamthitta district. "How the coronavirus behaves cannot be predicted," he adds. "Even after repeat tests every alternative day, the patient is positive. Her condition is stable."
Lok Sabha Speaker Om Birla says that control rooms should be set up in Parliament and Assemblies for better coordination between states in helping migrant labourers and students stranded amid the nationwide lockdown.
The World Health Organisation says that all available evidence suggests that coronavirus originated in animals in China late last year and was not manipulated or produced in a laboratory, reports Reuters. "It most likely has its ecological reservoir in bats but how the virus came from bats to humans is still to be seen and discovered," says WHO spokesperson Fadela Chaib.
Thailand's Cabinet approves a second automatic visa extension for foreigners for three more months to prevent long queues at immigration centres and stem the spread of the coronavirus, reports Reuters.
The United Nations' World Food Programme says the number of people facing acute food insecurity could nearly double from 135 million in 2019 to 265 million this year due to the economic fallout of the coronavirus pandemic. "COVID-19 is potentially catastrophic for millions who are already hanging by a thread," says Arif Husain, chief economist and director of research, assessment and monitoring at the World Food Programme.
External Affairs Minister S Jaishankar says he spoke with his Kenyan counterpart Raychelle Omamo. "Discussed strengthening our long-standing cooperation in diverse fields," he tweets. "India, as always, will be a reliable partner in medical supply."
 Forty-seven staff members of a medical college attached to Aligarh Muslim University have been quarantined after they came in contact with a coronavirus patient, reports PTI. The patient was reportedly referred to the emergency wing of the hospital instead of the isolation facility.
A chart showing new cases in India.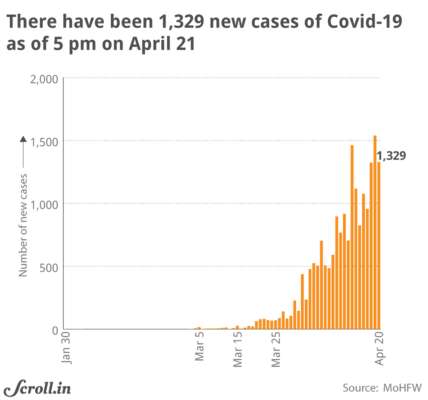 6 pm: A chart showing the cumulative figure of the coronavirus cases in India.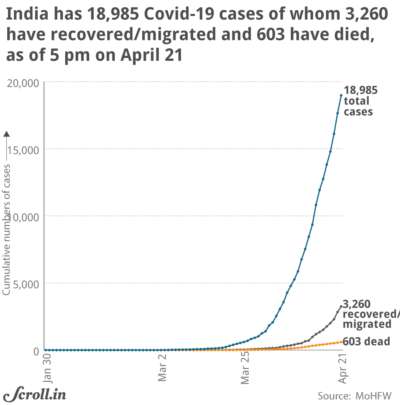 Kejriwal says 80% people who have died because of the coronavirus are above the age of 50 years. "Please take care of the elderly in your family, practice social distancing, don't let them step out," he adds.
 "About 1 crore of Delhi population being given free ration by government," says Arvind Kejriwal.
The government will procure 60 new ambulances in the wake of coronavirus outbreak, says Delhi chief minister.
5.49 pm: Kejriwal adds that the Delhi government will conduct coronavirus testing for media persons from Wednesday. "We have set up a Centre for it," he adds. "Salute our journalists who are at the frontline of this coronavirus outbreak. Hope not a single journalist is tested positive."
"We will ensure food security for all the Delhiites throughout the period in which people will face the economic impact of the coronavirus," says Arvind Kejriwal.
Delhi government will give 2,000 food coupons to every MLA, MP to distribute among the poor, says Kejriwal. These coupons will be distributed to those without ration cards.
Delhi Chief Minister Arvind Kejriwal says out of 1,397 samples taken, 78 people were found infected with the coronavirus on Monday. "There are 1,603 active cases of COVIDt-19 in Delhi," he adds. "47 people have died of the coronavirus."

.
Karnataka Medical Education Minister K Sudhakar says he had instructed his department to arrange coronavirus tests for journalists after 27 employees of Tamil channel and at least 53 journalists in Mumbai tested positive.
27 employees of Tamil channel found positive; Delhi may start testing journalists soon
The health ministry has called for a ban on exports of tuberculosis medicine and asked state governments to help pharmaceutical firms to step up production amid the nationwide lockdown to tackle the coronavirus spread, reports NDTV.
India's focus on coronavirus leaves TB and HIV patients adrift
Union Home Secretary Ajay Bhalla writes to West Bengal Chief Secretary Rajiv Sinha over the state government's lack of cooperation for the inter-ministerial Central teams to monitor the situation.
"It has been brought to notice of this ministry that both IMCTs, at Kolkata and Jalpaiguri respectively, have not been provided with requisite cooperation by state and local authorities," says Bhalla. "In fact they have been specifically restrained from making visits, interacting with health professionals and assessing the ground-level situation."
Here is a chart showing the number of coronavirus tests conducted in India till April 20.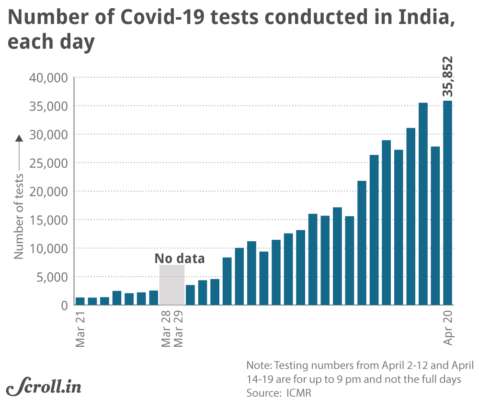 Home Ministry's Joint Secretary Punya Salila Srivastava says West Bengal is not supporting Centre's inter-ministerial teams to visit facility or understand ground level facilities. "We've written to the state government to follow the disaster management act and allow us to do our job," she adds.
"The Council of Scientific and Industrial Research is initiating a randomised clinical trial to check the efficacy of drugs on decreasing the mortality rate in critical COVID-19 patients," says Agarwal.
Lav Agarwal adds that around 80% of global cases are mild or very mild, adding that only 15% have severe symptoms and 5% are critical.
R Gangakhedkar says it is a small study showing that asymptomatic cases in the country is 80%. "For every symptomatic case, we have two asymptomatic cases," he adds.
 Lav Agarwal says all regular services need to be provided at hospitals that are not dedicated to treating coronavirus patients.
The health ministry says no coronavirus case has been reported in 61 districts of India for 14 days. Number of people cured now is 3,252 and the recovery rate is 17.48%, says Lav Agarwal.
 "We are asking hospitals to make a contingency plan for this," adds Agarwal. "All employees at hospitals will be screened daily. We've asked for hospitals to ensure blood banks are stocked well."
Joint Health Secretary Lav Agarwal says health care workers have tested positive and some patients have also been infected in hospitals. "We have issued guidelines that hospitals set up a committee," he adds.
Gangakhedkar adds that 4,49,810 tests for COVID-19 have been conducted so far in India, 35,852 samples tested on Monday.
 ICMR member Dr R Gangakhedkar says rapid testing kits have been distributed to states. "One state complained about quality issues," he adds. "It is a new test, we will investigate. Next two days, our institutes will validate the kits. We are advising states to not use these for the next two days."
The home ministry official says they have launched an online delivery of training material for tackling coronavirus at http://igot.gov.in.
There are over 1 crore warriors in the database, says the health ministry.
Arun Panda, health ministry, says they have created a COVID-19 warrior dashboard. It is a master database of health care workers and volunteers on the frontline.
The Centre begins its daily press conference on the coronavirus situation in India.
3.48 pm: Centre gives permission to Dr Vishal Rao of HCG Bangalore Institute Of Oncology Specialty for plasma therapy.
Rajasthan's overall tally rises to 1,659 with 83 new cases today, reports ANI.
430 people die in
The southern state of Bavaria in Germany cancels this year's Oktoberfest, reports Reuters. It is the world's largest folk festival.
Apurva Chandra, the leader of the central teams visiting states, says they have gone to other states like Madhya Pradesh, Maharashtra and Rajasthan, reports
Haryana's tally stands at 252. Of these, 142 people have recovered and two have died.
The West Bengal government declares most parts of the Hooghly district as containment zones, reports PTI. These include all wards of the municipalities of Uttarpara Kotrang, Dankuni, Srerampore, Rishra, Konnagar, Baidyabati, Champadani, Chandannagar and Bhadreshwar.
At least 25 people, including journalists working for a Tamil TV news channel, test positive in Chennai, reports PTI.
Media watchdog Reporters Sans Frontières says the coming decade will be decisive for the future of journalism, with the coronavirus pandemic "highlighting and amplifying the many crises that threaten the right to freely reported, independent, diverse and reliable information".
Meanwhile, India drops two positions in the latest press freedom index. India is ranked at the 142nd position.
Covid-19: India drops 2 places on World Press Freedom Index, as watchdog warns of pandemic's impact
The 193 members of the UN General Assembly adopt a resolution that calls for "equitable, efficient and timely" access to any future vaccines developed to fight coronavirus, reports AFP.
The Supreme Court asks the Centre and Jammu and Kashmir administration to file their responses by April 27 on a plea seeking restoration of 4G internet services in the Union territory in view of prevailing Covid-19 pandemic, reports PTI.
4G internet in J&K: 'Can't overlook militancy,' Centre tells SC on restoration of services
Karnataka Medical Education Minister Sudhakar K tells PTI that the state government will take any health complaint by people aged above 55 very seriously. We will do it [coronavirus test in such cases]," he says. "We want to do it. We have issued guidelines for senior citizens, especially those with co-morbid conditions. Even if they have slightest discomfort, we want to take it seriously."
Goa Congress President Girish Chodankar says only 0.04% of total 16 lakh population have been tested.
A patient from Central Delhi, who was neither an employee of the President's Secretariat nor a resident of the President's Estate, expired on April 13 with co-morbidities at BL Kapoor Hospital, says the Rashtrapati Bhavan in a statement.
Union Minister of Minority Affairs Mukhtar Abbas Naqvi says India is heaven for Muslims and that their social, economic and religious rights are secure in the country. His comments come after the
'India heaven for Muslims,' says Union minister Mukhtar Naqvi on OIC's remarks on Islamophobia
Congress leader Rahul Gandhi tweets that the rice that should have used been used to feed the poor in India is being used to produce sanitisers for the rich.
Patnaik adds that any act against health personnel is an act against the state. "In case anyone indulges in any activity that will disturb or dishonour their work, very strict criminal action will be taken against them including invoking provisions of National Security Act," he adds.
The Odisha government will ensure that Rs 50 lakh is given to all health personnel and members of all other support services who lost their lives in the fight against COVID-19, says Naveen Patnaik.
Germany's confirmed coronavirus cases rise by 1,785 to 143,457, reports Reuters.
TMC leader Derek O'Brien questions why central teams did not visit states like Gujarat, Tamil Nadu and Uttar Pradesh that have a higher number of coronavirus cases, more hotspots.
A police inspector dies in Madhya Pradesh's Indore district, reports PTI. Apart from being infected with Covid-19, the patient also suffered from high blood pressure.
35 new cases in Andhra Pradesh today. Below is the break-up
One more person test positive in Meghalaya, reports PTI. The 42-year-old woman is a family friend of the first patient in the state, says Chief Minister Conrad Sangma
"The six persons who tested positive on Monday had travelled to Delhi for some purpose," says Ghaziabad District Magistrate Ajay Shankar Pandey. "It is submitted by the CMO that people traveling between Ghaziabad and Delhi have the possibility of either being infected or infecting others. Keeping this in mind, we are banning all travels between Delhi and Ghaziabad unless it is emergency/essential services."
Delhi Chief Minister Arvind Kejriwal says his government will test mediapersons in the national Capital. This comes after 53 journalists tested positive in Mumbai.
Hong Kong extends restrictions by 14 days, reports Reuters.
Gujarat's toll rises to 77 after six more people die, reports
Delhi health minister confirms that one person has tested positive in Rashtrapati Bhavan, reports
Jain says the government has started rapid testing in Nabi Karim on Monday.
There are a total of 2,081 positive cases in Delhi, says Health Minister Satyendra Jain.
Sensex, Nifty 50 fall over 2.5% after US crude oil prices crash
72 more cases in Maharashtra till 10 am today, says the state public health department. The state's count rises to 4,676 while the toll increases to 232 after nine more deaths.
China's National Health Commission says 11 new cases were reported on Monday, of which four are imported. The country reported no new death.
A 12-yr-old girl died on April 18 while walking from Telangana to Bijapur in Chhattisgarh along with 11 other people, reports ANI. "I'm yet to see her postmortem report but it seems she died either due to exhaustion, electrolyte imbalance or dehydration," says the CMHO.
Covid-19 lockdown: 12-year-old girl dies after walking 150 km in effort to get home in Chhattisgarh
A farmer died in a hospital in Madhya Pradesh on Monday, four days after being allegedly beaten up by the police for violating lockdown orders in Jabalpur district.
Covid-19: Jabalpur farmer dies after being beaten up by police, six personnel suspended
Sri Lanka's Election Commission postpones the parliamentary elections for nearly two months, reports AP. The snap election was supposed to be held on April 25. But now it has been postponed till June 20. Seven people have died of Covid-19 in the country while 295 others are infected.
Coronavirus: 25 staff members of Pune hospital test positive, quarantined
Nearly 100 people at the Rashtrapati Bhavan complex have been quarantined after a sanitation worker tests positive, say multiple reports citing unidentified officials. While the secretary-level officials and their families have been asked to be under home quarantine, workers have been taken to a quarantine facility in central Delhi, according to NDTV.
Prime Minister Narendra Modi lauds the efforts of the civil servants in ensuring India defeats Covid-19.
harkhand Chief Minister Hemant Soren has conveyed his objections to Prime Minister Narendra Modi to the possible return of hundreds of students from Rajasthan's Kota, reports NDTV. He called the move "one nation, two sets of rules". Five states, after getting clearance from the Centre, are making arrangements to get their students. Besides, Uttar Pradesh has already sent buses to fetch the students.
Seven more people test positive in Nagpur district of Maharashtra, says the district information office. The total number of positive cases in the district is now 88, reports
The toll in Karnataka rises to 17 after an 80-year-old patient dies in Kalaburagi district, says Medical Education Minister K Sudhakar.
The number of coronavirus cases in India rises to 18,601, including 590 deaths, according to the health ministry's 8 updates. As many as 3,251 patients have now recovered. In the last 24 hours, the Centre has confirmed 1,336 new cases, 47 deaths and 705 recoveries.

US President Donald Trump says he will sign an executive order to suspend immigration into the country.
COVID-19: the US to suspend immigration to protect jobs, says Donald Trump
Crude oil prices in the United States, which ended in the negative zone for the first time in history on Monday, are back above zero. The benchmark West Texas Intermediate futures contract for May delivery is selling for $0.56 a barrel, AFP reports.
The contract had closed Monday at a negative price of $37.63 a barrel, meaning that producers were ready to pay customers that amount for them to buy it.
United States President Donald Trump says one of the lessons to be learnt from the pandemic is that the country should build its own supply chains, PTI reports. "We cannot outsource our independence," he says at the daily press briefing. "We cannot be reliant on foreign nations."
All 193 members of the United Nations General Assembly adopt a resolution calling for "equitable, efficient and timely" access to any vaccines that may be developed in the future for the coronavirus, AFP reports. The resolution, adopted by consensus, calls for strengthening the "scientific international cooperation necessary to combat COVID-19 and to bolster coordination", including with the private sector.
President Donald Trump says the US will buy 75 million barrels of crude oil to replenish the national strategic stockpile by taking advantage of the historic price drop.
Turkish President Recep Tayyip Erdogan announces a curfew from April 23 to April 26 in 31 provinces to prevent the spread of the coronavirus, AP reports.
The United States records 1,433 new coronavirus deaths in the past 24 hours, reports AFP, citing the Johns Hopkins University tracker.
The World Health Organization defends itself against the growing criticism of its lack of transparency in the initial stages of the pandemic.
"We have been warning from day one that this is a devil that everyone should fight," WHO chief Tedros Adhanom Ghebreyesus says. "WHO is open. We don't hide anything."
COVID-19: WHO defends itself against US criticism, says it 'kept no secrets', is an 'open book'
Top Updates
India reported 1,540 new cases of COVID-19 in 24 hours by Monday evening as the Union health ministry confirmed 17,656 coronavirus cases. The Ministry of Health and Family Welfare said that COVID-19 cases in the country were doubling every 7.5 days as compared to 3.4 days before the imposition of the lockdown.
Mumbai recorded 155 new cases of the coronavirus on Monday, taking the total number of cases in India's worst-hit city to 3,090. The Brihanmumbai Municipal Corporation has said that 84 more patients recovered from the disease and were discharged from hospitals, taking the count of recoveries to 394.
The governments of Delhi, Punjab and Karnataka said that they would not allow any relaxations till the lockdown ends on May 3. Several other states on Monday began to allow some economic activity in parts that were designated as non-hotspots or areas least affected by COVID-19.
The Centre warned that the coronavirus situation is "especially serious" in Mumbai, Pune, Indore, Jaipur, Kolkata and some places in West Bengal, adding that violation of lockdown guidelines can lead to spreading of the infection. Meanwhile, Mamata Banerjee questioned the Centre's move to send special teams to assess lockdown.
The Centre wrote to the Kerala government to object to the alleged dilution of lockdown guidelines as the state allowed buses to operate in cities and opening of micro, small and medium enterprises in municipal areas. However, the state said there was some "misunderstanding" and denied any dilution. In a separate letter, Union Home Secretary Ajay Bhalla asked all states and Union Territories to strictly comply with the government guidelines.
At least 53 journalists in Mumbai tested positive for COVID-19, said the Brihanmumbai Municipal Corporation officials. This number is expected to increase.
China said that India's new rules for Foreign Direct Investment from specific countries violated the World Trade Organization's principle of non-discrimination and were against free trade. Last week, the Centre had tightened norms for Foreign Direct Investment in India from neighbouring countries, with a view to curb "opportunistic takeovers or acquisitions" of Indian companies due to the coronavirus pandemic.
Globally, the toll from the coronavirus pandemic crossed 1.66 lakh and more than 24.17 lakh declared cases have been found in 185 countries and territories since the disease first emerged in China late last year, according to the Johns Hopkins University tracke