Unknown Facts About Sasha Obama that Many Don't Know
Ever since her father took office in 2009, Sasha Obama has been known almost solely as a president's daughter. Growing up both in the public eye, but also under extreme protection, it's safe to say that Obama's childhood was anything but ordinary. And yet, the famous daughter has had some moments over the years that help teens relate to her.
There's more to know about this presidential teen than just her father. The little girl who once lived in the White House is no longer so little. And now that Obama is all grown up and is no longer obligated to be the first daughter, she's doing big things.
While people of the United States and the world have seen Obama through the years, there are still quite a few things you probably don't know about her — like just what rapper Drake thinks of her fashion sense, something he's commented on publicly. So let's take a closer look at some unexpected facts about Sasha Obama.
Sasha isn't her real name 
We first met Sasha Obama during her father's race for the White House. Once he won the election, then 7-year-old Sasha was instantly in public view. Over her father's two terms in office, the world saw her grow up from young girl to full-fledged teenager. You'd think by the time her father left the White House eight years later, there wouldn't be much unknown about the teen. Not quite! Did you know that Sasha isn't even her real name?
It turns out, Sasha is actually short for Natasha. The mind is blown. Although this was first revealed in 2016 when news outlets reported she was using her full first name for a summer job on Martha's Vineyard (more on that later), it flew under the radar. That is, until Twitter user Ashley C. Ford shared the news in 2017 (via Refinery29), sending all of Twitter into a frenzy. One Twitter user commented on the first daughter's name, sharing, "My entire life is a lie." And, of course, the GIF responses were amazing, as one expects from Twitter.
Sasha Obama had a childhood scare
It's not common knowledge, but Sasha Obama got very, very sick when she was very, very young. Former President Barack Obama reflected on the experience in a campaign video that Politico reported on.
"People ask me what was the hardest time in my life — they ask, well what about during the debt ceiling debate and this and that and the other thing," he noted. But those situations paled in comparison to what he went through when his youngest daughter was an infant. "Sasha got meningitis when she was 3 months old," he revealed. "I still remember going to the hospital together and they had to give her a spinal tap." Meningitis is a serious, life-threatening disease, so it's no surprise that he was acutely concerned.
"Your world narrows to this very small point," he continued, describing how it felt in the moment. "There's one thing you care about and you don't care about anything else." Fortunately, Sasha made a full recovery and lives a happy and healthy life to this day.
Meeting Ryan Reynolds was major for Sasha Obama
Sometimes it's hard to picture Sasha Obama as a real teen going through the same things as the average kid, but then those beautiful moments happen to remind the world that Sasha Obama is super relatable and just like everyone else growing up… well, most of the time.
A perfect example of this came in 2016 when Obama attended her first state dinner. It just so happened that there were some celebrities there, including the crush-worthy Ryan Reynolds. And let's just say, being the daughter of the president has some major perks as Obama had the opportunity to meet the actor.
As Time reported, there was a great photo-op where Obama met Reynolds with her sister Malia looking on, giving a thumbs up to her lucky sister. Obama's joy at meeting the actor is just how other teens — and, honestly, adults — would react during that interaction. You go girl.
Can Sasha Obama take your order?
Being the president's daughter doesn't necessarily leave you with any special treatment — at least when you're an Obama. Like many teens who end the school year and head into summer with a lot of time on their hands, Sasha Obama landed herself a summer job. Customers who visited Nancy's, a seafood restaurant on the island of Martha's Vineyard, in the summer of 2016 may have noticed an employee who looked familiar. No, that wasn't a trick of the eye. You really were being served by a first daughter.
As the Boston Herald later reported, then-15-year-old Sasha Obama worked the takeout window at the restaurant for the summer months that year, accompanied by Secret Service agents. A fellow waiter told the Boston Herald, "We were wondering why there were six people helping this girl, but then we found out who it was." Not exactly your typical summer job experience, but close enough!
Sasha Obama is besties with Joe Biden's granddaughter
Having a friend who gets your way of life is key. This is why it makes total sense that one of Sasha Obama's best friends is Maisy Biden, former Vice President Joe Biden's granddaughter. Both girls were in the spotlight from a young age, which seems to have helped the ladies relate to one another. It also doesn't hurt that they have more in common than just that. Obama and Biden played basketball together and they both love soccer, according to the Chicago Tribune.
They're school friends too, having attended Sidwell Friends School in Washington. And, as the ultimate test of friendship, the two have even vacationed together in the past. As Us Weekly reported, the two were seen hanging out in Miami in early 2017.
Sasha Obama's entourage includes a reality show star
Maisy Biden is not the only friend with whom Sasha Obama spends her time hanging out and vacationing. She's also not her only famous friend. The well-known teen has another friend, Skylar, who was spotted at Obama's 16th birthday celebration, as reported by AOL.
Skylar has also famously been in front of the camera, but not for political reasons. In fact, Skylar and her family are famous because they live out their lives in front of the camera. Skylar's mom, Charrisse Jackson Jordan, is one of the housewives on The Real Housewives of Potomac on Bravo.
While Jackson Jordan hasn't spent time with the Obamas, she spoke about her daughter's friendship with Obama on Bravo, sharing, "Skylar and Sasha [Obama] are friends. They go to lunch. Secret Service is out there standing outside while Skylar and Sasha's having lunch." It's just a totally normal friendship — sort of.
Sasha Obama has the best room in the Obama house
Being the baby of the family has some major perks, especially when your parents are decorating and designing a new house. When the Obama family left the White House, it was time to find a new house to call "home." Because they took the time to find the right house, the family members had a chance to have a say in the designs.
Michelle Obama spoke to their move during an interview on Ellen. And who did she think got the best deal? "Sasha actually killed in this house. She has this two-room suite, it's all decked out. She has a living room area and a bedroom."
But what about the former president? He must have more space. That's not quite the case. The former first lady shared, "He's got the smallest room for his office. So he's really hating on her [Sasha]."
Live music for Sasha Obama, please!
The youngest Obama is definitely a fan of live music and has been to her fair share of shows. According to BET, Sasha Obama was spotted at Jay-Z's Made In America music festival in 2016 in Philadelphia, rocking out to Rihanna's set.
Additionally, on her fifteenth birthday, Sasha, Malia, and Michelle went to Baltimore to see Beyoncé, according to The Washington Post. That wasn't her first time seeing Queen Bey either, as the trio saw her in Atlanta in 2012, and in Chicago in 2013 and 2014. That's not counting the performances Beyoncé has given at White House events such as the former First Lady's birthday party, or the Obamas' first inaugural ball.
Obama has danced with royals other than Beyoncé, too. In 2018, Barack Obama sat for an interview on the Netflix series My Next Guest Needs No Introduction with David Letterman. There, the former president discussed dancing on stage with Prince: "This was probably three or four months before he died," he reflected. "Prince asked Sasha to come up and dance — and she's an excellent dancer. Then Sasha pulls me up, which surprises me because she always mocks my dancing, but I have dad moves." Jealous yet?
Sasha Obama attends the University of Michigan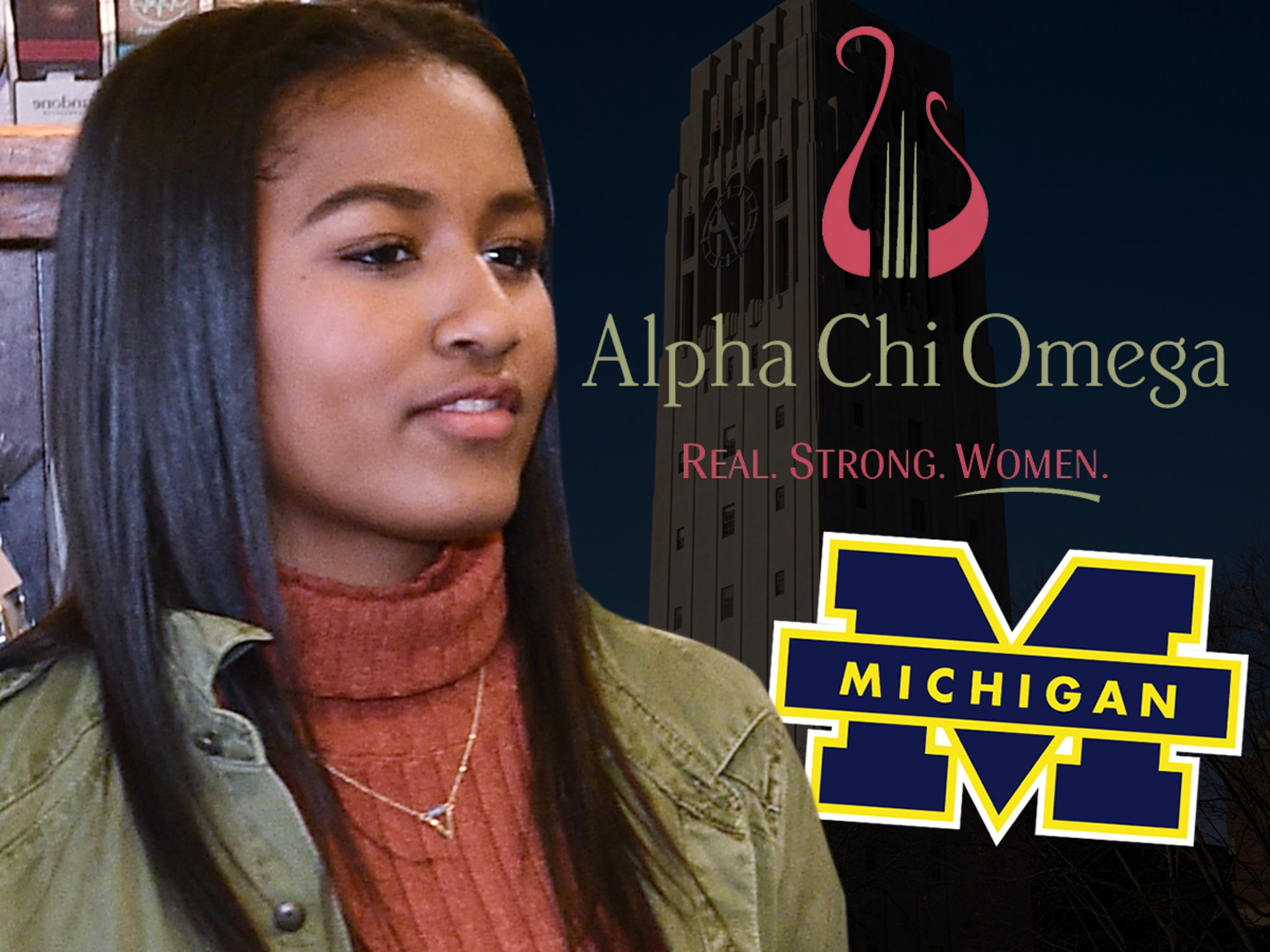 When it comes to college, Sasha Obama bucked the family trend of attending an Ivy League school like Yale or Harvard. Instead, Sasha decided to attend the University of Michigan, which is a public Big Ten university, according to an article in The Detroit News. That means that Sasha will be calling Ann Arbor home for four years.
Sasha was spotted by other students at the university while attending freshman orientation in the summer and seen later with men who are likely Secret Service agents. "I was walking by pushing a vacuum and she walked out right in front of me," film student Zach Lassen shared. "I said, 'Excuse me.' It was a crowded hallway with her and some Secret Service dudes." Lassen added that he thought it was "cool" that she's attending the university. Other students spotted her near the library.
So, what Sasha will major in? Only time will tell!