Economic Package: Finance Minister Nirmala Sitharaman Announces Rs 3 Lakh Cr Collateral Free Loans
New Delhi: Union Finance Minister Nirmala Sitharaman on Wednesday discussed the economic package in detail announced on May 12 by the government. Here the important points: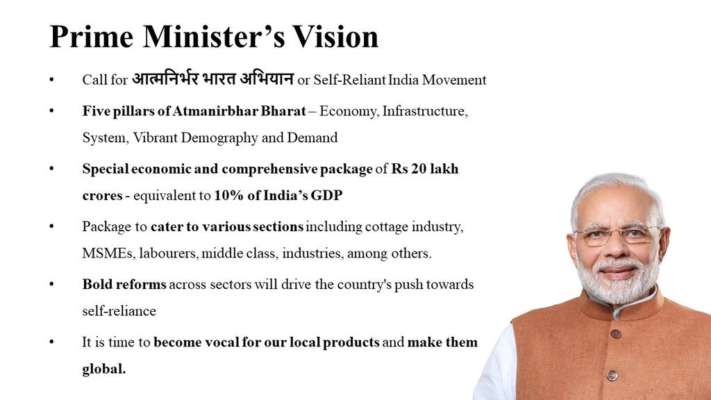 Highlights:
1. PM laid out a comprehensive vision
2. The vision was laid out after wide consultations with several sections of the society. 3. Eco package to spur growth, build a self-reliant India
4. Self-reliant India does not mean cutting off from the rest of the world
5. Five pillars of 'Atmanirbhar Bharat: economy, infrastructure, system, demography and demand
6. Shall not forget our responsibility towards the poor, needy, the migrants workers, divyang and the aged of the country.
7. Rs 20,000 cr subordinate debt for stressed MSMEs to be provided; 2 lakh MSMEs to benefited
8. Rs 50,000 cr equity infusion through MSME Fund of Funds; to provide support to growth potential MSMEs
9. Rs 3 lakh crores collateral-free automatic loans for businesses, including SMEs.
10. Rs 18,000 cr refunds given to taxpayers; 14 lakh taxpayers benefitted from the clearing of refund dues.
On Tuesday evening, PM Modi pitched for a self-reliant India in the post-COVID-19 world as he announced an economic package that is about 10 per cent of the country's GDP. The Prime Minister said the package would help every section of society, including workers, farmers, the middle class, industrial units and the MSME sector.
The stimulus will play an important role in the 'Atmanirbhar Bharat Abhiyan' (Self-reliant India Campaign), PM Modi had said. "India's self-reliance will be based on five pillars – economy, infrastructure, technology-driven system, vibrant demography and demand. When India speaks of self-reliance, it does not advocate for a self-centred system. In India's self-reliance there is a concern for the whole world's happiness, cooperation and peace," he said.
Facebook Notice for EU! You need to login to view and post FB Comments!