Reported 1,543 new COVID-19 cases in last 24 hrs in India, total tally stands at 29,974
Global confirmed coronavirus cases surpassed 3 million on Monday, as the US neared the 1-million mark. Meanwhile, in India, Covid-19 has risen to 29,974. 934 patients have died so far due to the disease in India, according to the health ministry.
A staff nurse and an attendant of a patient found Covid-19 positive in AIIMS Rishikesh; total cases in Uttarakhand 54
Tamil Nadu: Ranipet district collector launched vending machine to dispense face masks at Ranipet Collector's office.Cases in Tamil Nadu on the rise as people have a casual attitude to norms like social distancing and don't understand the gravity of the contagion: TN CM Palaniswami
No new cases reported in 32 districts of Tamil Nadu today: Tamil Nadu Health Department. The 121 new positive cases reported today are from Chengalpattu (12), Chennai(103), Kallakurichi(3), Kancheepuram(1), Namakkal (2) districts
121 new positive cases reported in the state today; the total number of cases in the state is now 2,058: Tamil Nadu Health Department.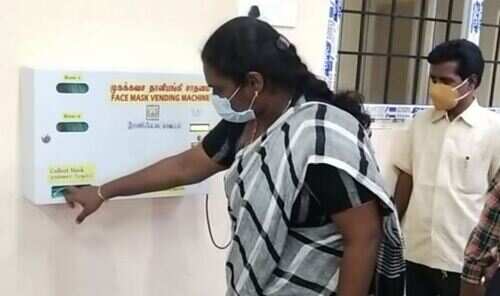 11 new Covid-19 cases raise Karnataka's tally to 523
Mumbai's Dharavi area reports 42 new cases and four deaths. Total cases from the locality now 330 which includes 19 deaths
2,770 people detained in Delhi for defying lockdown; 70 cases registered: Police.
19 new positive cases have been reported in Jammu and Kashmir in the last 24 hours, all are from Kashmir division. Total positive cases in the Union Territory stand at 565 which includes 381 active cases.
15 containment zones in Ranchi. Hindpiri is put under a large containment zone category while the remaining 14 are in microzone category. One or two positive cases reported from microzones.
57 new Covid-19 cases detected in Uttar Pradesh; total in the state reaches 2,043.
13 more positive cases reported in Bihar today, taking the total number in the state to 359.
A total of 337 people died of the coronavirus in New York on Monday, state governor Andrew Cuomo has said, the lowest number of fatalities in almost a month in America's Covid-19 epicentre.
New Jersey Governor Philip Murphy reported 106 deaths on Monday, and according to a report in The New York Times, the one-day death tolls were less than half of what the two states reported at their peaks.