Amazing Benefits Of Mango You May Not Know 
Mango season is on its end phase, yet it's not late to know some amazing beauty benefits it provides. The fruit has become a "go-to" ingredient lately in skincare, and with so many benefits of mango for skin suffering from acne, premature ageing, dark spots, and dullness, why would you look elsewhere? Mango fruit is a wonderful source of vitamins and minerals and plays an important part in producing collagen to firm the skin.
The mango pulp, extracts, butter, and even the skins, are used as natural skincare ingredients to protect, revitalize, and smooth your skin. Most often, you'll see mango extract and mango butter in products.
Similar to the pulp of a mango, the antioxidant properties in mango extract helps to hydrate the skin and improve skin tone. Mango extract comes from the skin of the mango. The extract is in powder form which you can add to other ingredients to use as a natural skin care product.
Made from the seeds of the mango, this creamy mango seed butter is full of antioxidants that deeply moisturize your skin and leave your skin glowing. It also boosts skin cell repair due to antioxidants which defend skin against damage caused by free radicals.
Benefits of Mango For Skin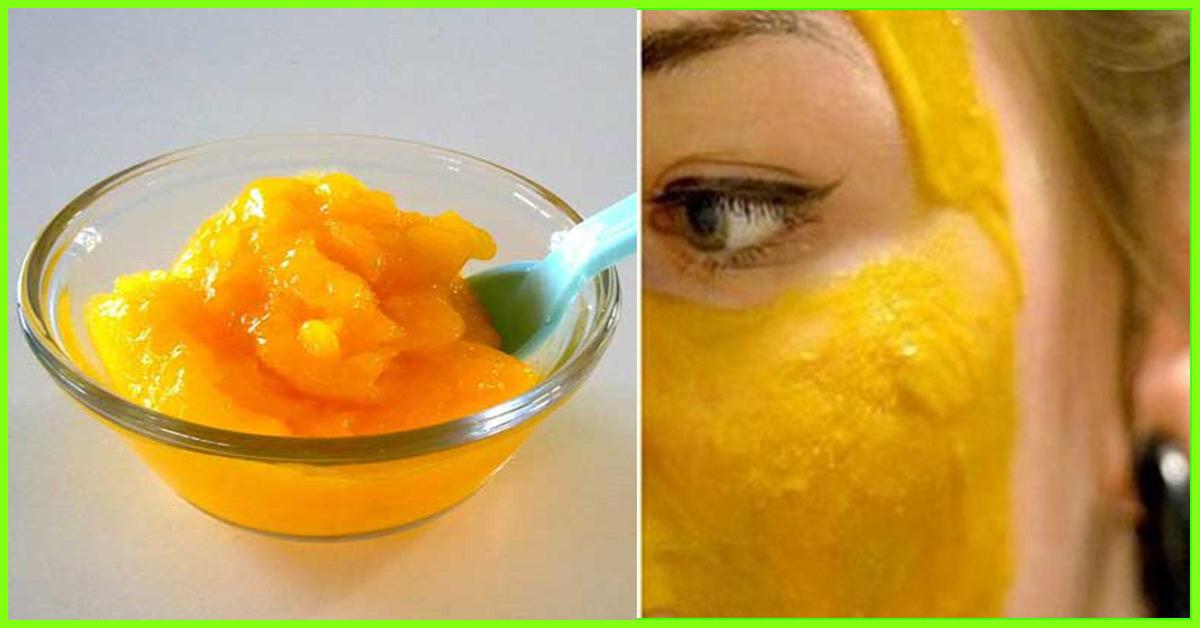 Mangoes originate from tropical countries where the heat and humidity are suitable for growing mangoes. But a few other producers from California, Florida, Central America, and Mexico have been successful in cultivating the fruit for the U.S. market.
It takes four to six years to grow a tree that's ready to bear fruit. A mango tree bears flowers that the fruit then grows from. Once the fruit flowers, it takes 100 to 150 days for the fruit to be ready to pick.
The colour and size of Mangoes differ from each producer, but the pulp and skin remain nutritious wherever they grow. Let's take a look at the benefits of using mango on your skin.
Mangoes can prevent acne breakouts
Applying the pulp of the mango to your skin can help to clear the pores and prevent blackheads and pimples. Use mashed pulp and form a texture you can leave on your face for five to ten minutes. Then wash off and pat your skin dry.
Mango extract is a wonderful ingredient to include in products that will help to prevent acne as mangoes are packed with cleansing, astringent properties. Mango ingredients leave your skin clean and healthy by clearing any bacteria from your skin. Use products with mango in them regularly to avoid further breakouts.
Mango butter also has a significant part to perform in your skincare routine, it is especially key as a simple, single-ingredient moisturizer for those with sensitive skin. Mango butter benefits oily complexions by helping to dissolve excess oils and heal acne scars while providing tons of nourishing moisture.
Mango nutrition promotes skin health
The nutritional values of mango are in abundance, from vitamins to minerals to antioxidants. It's harmless (unless you are allergic) and natural approach to using mangoes to care for and maintain healthy skin. So, what's so healthy about a mango?
Vitamin C – this important vitamin reduces the damage induced by the sun's UV rays, although it's not a sunscreen, it protects against free radicals. Administering vitamin C topically (through the skin) has a better effect for this than taking it orally. It can likewise reduce inflammation caused by acne and lighten the skin.
Vitamin A – also known as Retinol, diminishes fine lines by stimulating collagen production and lightening dark patches on the skin.
Vitamin B6 – a water-soluble vitamin that reduces sebum on the skin (oily skin).
Copper – reduces fine lines and wrinkles, lightens the skin and fights against damage from free radicals.
Potassium – keeps cells hydrated to moisturize the skin.
Magnesium – helps to reduce oily skin, acne, and rosacea.
Beta-carotene – boosts immunity and protects the skin against bacteria and toxins.
Vitamin E – a fat-soluble vitamin that's famous for hydrating the skin.
Vitamin K – a fat-soluble vitamin that helps to reduce stretch marks and spider veins.
Boost your immune system
Micronutrients such as phenol and antioxidants can move inside cells to defend the body from certain autoimmune and degenerative diseases. Your immune system can become compromised if the cells break down, so to keep your cells healthy, consult a nutritionist for recommended dosages and ideas for how to get more mango into your diet. And mango applied topically in all its forms will to help support a healthy immune system in a different way, by penetrating the skin and working right on problem spots.
Repairs DNA
Your DNA is the heart of your body makeup. If your DNA is damaged by age, disease, poor diet or oxidative stress, it becomes altered and can react by way of various diseases including cancer and autoimmune disease. Keeping your DNA in proper working order is paramount to living a lengthy and healthy life.
Reduces inflammation
Mangiferin, found in the seeds, skin and kernels of the mango is a powerful antioxidant. This antioxidant helps to ease the inflammation produced by acne and other inflammatory skin conditions.
Use mango as a daily treatment to heal your skin from a bout of acne or a flare-up of rosacea. You can use it in various forms as a natural beauty treatment, these are:
Mango seed oil
Mango pulp blended to make a puree can be combined with other ingredients to make a face mask.
Mango extract powder (formed from the skins) can be added to complementary ingredients to make a powerful moisturizer, mask or cleanser.
Promote collagen production
Vitamins A and C help to maintain your immune system by producing collagen proteins. Collagen proteins are the connections to amino acids that build the body's connective tissue. They take care of your overall health and wellbeing.
Remove dead skin cells
The alpha-hydroxy acids in mangoes are excellent at chemical exfoliation (breaking down the bonds between dry skin cells with chemical components instead of exfoliating "grit"), helping you remove dull, dry skin to show the fresh, new skin underneath. The pulp of the mango fruit rejuvenates your skin, adds brilliant shine, and serves as a natural moisturizer for dry skin.
Reduce dark spots
Mango skin extract can reduce dark spots and patchy skin tone. Use the powder in a mixture to cleanse your face regularly.
To make powdered mango skin first you must dry out the skin, you can achieve this by peeling the skin with a potato peeler then drying the pieces out in the oven. The oven method can take up to seven hours at a low heat. If you live in a very warm country, you can dry the peeled mango skin outside for a few days. Once skins are dried, the peels can be crushed into powder.
Protects against premature ageing
Mangoes are high in antioxidants and phytochemicals that protect the body from free radicals that damage the skin and induce premature ageing. Using the pulp of the mango to create a moisturizing treatment can help your skin to look and feel younger.
It's safe to say the mango fruit has enough vitamins, minerals, and other powerful compounds in it to create a nourishing, natural beauty treatment for your skin. With so many benefits of mango for skin health, you need to look no further for an effective moisturizer and skin protector.